Web site of tourism in the Tarn & Garonne :
http://www.tourisme-tarnetgaronne.fr/
Expériences :
Golfech (8km)
Nuclear power plant – CNPE de Golfech – visites
hydraulic power station – fish elevator : visites
Beekeeping: hive management, honey collection (5 €)
with Jean-Claude Rafin, beekeeper in Auvillar
Live a very enriching experience with bees, with special equipment provided by the beekeeper. Please note that you should not be allergic to bee stings.
Possible experience depending on activity and weather.
RV at 07.82.12.96.25
reserved for residents of the gîte.
Purchase of honey possible.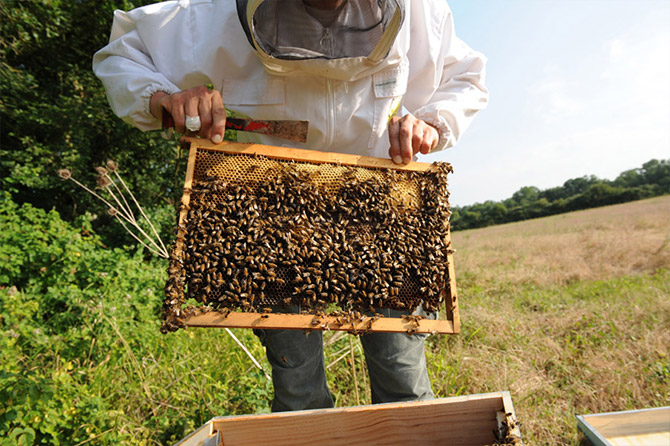 source photo : https://www.untoitpourlesabeilles.fr/concept.html
Small succulents garden in Auvillar, guided tour (€ 3 per group, 5 people maximum), purchase of potted plants possible.
Chez Eliane (to take appointment: 05 81 11 51 97 – reserved for residents of the gîte).
Click on photos to enlarge

Flamarens (10 km)

The Pyrenees visible if the weather is good.
Carriage museum in Lalande (6km)
Free and by appointment – web site
See also on the Tarn & Garonne Tourisme website
Visites/loisirs :
Valence d'Agen (à 5km)
Cinéma Apollo : https://valencedagen.fr/index.php/cinema-apollo/
Piscine près du stade : http://www.cc-deuxrives.fr/spip/-Piscine-d-ete-Valence-d-Agen-.html
Espalais (à 1km)
Golf 9 trous : http://www.golfespalais.com/
Le Château de Lamotte Bardigues (à 4 km)
Taken over in July 2018 by a young couple of the 20th generation of owners, the Château de Lamotte-Bardigues will for the first time this week be open to guided tours from Monday to Friday from 9:30 a.m. – as well as Sunday at 3 p.m., except in July and August (see below).
Voir le flyer
Donzac (8km)
Rurality museum : https://www.donzac.fr/culture/conservatoire/
Merles (8km)
Henry IV Oak : http://www.merles.fr/fr/tourisme/le-chene-dhenri-iv.html
Leisure base Saint-Nicolas de la Grave (10 km)
http://www.stnicolasdelag.online.fr/loisirs.htm
mountain bike rides – archery – bowling pitch – picnic area.
arboretum – hiking trails.
discovery of the ornithological observatory …
Sailing, windsurfing and canoe-kayak courses for groups and individuals (420, X4, catamarans, optimists, mini-soloers, caravels, canoe, kayak, …).
ride in small motor boats, pedal boat, swimming pool, fishing.
Lauzerte, plus beau village de France (25km)
http://www.lauzerte.fr/
Goudourville (10km)
Le Château : http://www.chateau-goudourville.fr/fr/
Two Seas Canal
A vélo : https://www.canaldes2mersavelo.com/
En bateau : https://www.tourisme-moissac-terresdesconfluences.fr/fr/decouvrir/nos-incontournables/le-canal-des-deux-mers-entre-castel-et-st-nicolas
Castelculier (20km)
Villascopia, 4th century Gallo-Roman baths :https://www.villascopia.fr/
Moissac (20km)
The abbey and its cloister : https://www.tourisme-moissac-terresdesconfluences.fr/fr
Agen (30km)
Tourisme : http://www.destination-agen.com/
Walibi – Aqualand : https://www.parcagen.fr/
Musée des Beaux-Arts : http://www.agen.fr/musee